Main content
Covered California and Sutter Health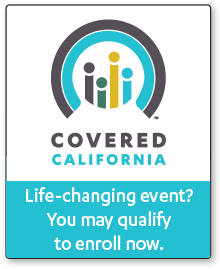 In 2010, the federal government passed the Patient Protection and Affordable Care Act (Affordable Care Act) to increase the number of Americans with health insurance and decrease the cost of health care.

The law provides access to insurance for many people who have not had it, including people with pre-existing health conditions and those who cannot afford insurance.

Beginning Oct. 1, legal residents of California who do not have health insurance from their job or from another government program will be able to buy insurance through the state's new "exchange" called Covered California. And on Jan. 1, 2014, most people will be required by law to have health insurance.

What You Need to Know
All health plans purchased through Covered California must cover certain services called essential health benefits. These include doctor visits, hospital stays, emergency care, maternity care, children's care, prescriptions, medical tests and mental health care. They also must cover preventive care services, such as mammograms and colonoscopies.
If you buy coverage through Covered California, you may qualify for federal tax credits or subsidies. Tax credits are available to people who make up to 400 percent of the federal poverty level ($46,000 a year for an individual and $94,200 for a family of four).
Expanded Medi-Cal eligibility makes it easier for low-income people to qualify for coverage.
The online Covered California calculator can help you estimate your cost to purchase health insurance in 2014 based on the information you provide. You'll also learn the amount of financial assistance that may be available.
The plan options vary by location and are available at four different levels: bronze, silver, gold and platinum. A bronze plan will have the lowest monthly premium with the insurance company paying 60 percent of the cost of services and you paying 40 percent. Whereas, in a platinum plan, the insurance company pays 90 percent of the cost of services but you will pay a much higher premium.
Young people can stay on their parents' plans until age 26, and those under age 30 may qualify for less-comprehensive and less costly "catastrophic coverage."
Insurance companies must offer everyone insurance and can't charge more for pre-existing conditions; men and women will pay the same price.
New policies can no longer impose lifetime limits on benefits or rescind people's coverage when they are sick.
Health plans can't turn people down for coverage or charge more based on health status, claims history or expected use of health services.
Sutter Health's Participation in Covered California
Sutter Health is participating in Covered California with five different Blue Shield individual/family plans and the Blue Shield small business health options program (SHOP). Visit our participating health plans page for more information.

Blue Shield's website has a tool you can use to get a health insurance quote providing specific information on plan benefits, premiums and health provider networks available to you. You may also call (888) 568-3560 to speak with a Blue Shield representative about selecting a Covered California health plan that allows you to receive care from Sutter Health.
Blue Shield 2014 Individual and Family Plans
Related Information
For Covered California enrollment assistance visit www.coveredca.com or call 800-300-1506